So many people walk around with a meaningless life. They seem half-asleep, even when they're busy doing things they think are important. This is because they are chasing the wrong things. The way you get meaning into your life is to devote yourself to loving others, devote yourself to your community around you, and devote yourself to creating something that gives you purpose and meaning.

This is what Morrie conveyed to Mitch during a visit one time.

Keep checking back. Things change around here all the time

John




I Am A Proud Member Of: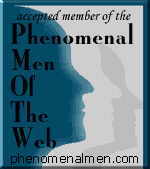 Phenomenal Men Of The Web
The Cooking Inn is powered by
We are an affiliate of ipowerweb, if you join through our link, we get a percentage, which really helps the Inn.