Colorado
Entered Union: August 1, 1876; 38th State



Back in 1982 my family moved from Wisconsin to Colorado. I have lived in Colorado since.

The name of our state, Colorado, has its origin in the Spanish language, as the word for "colored red". This was the name chosen for Colorado as a Territory in 1861 by Congress.

Colorado has been nicknamed the "Centennial State" because it became a state in the year 1876, 100 years after the signing of our nation's Declaration of Independence.

Colorado also is called "Colorful Colorado" presumably because of our magnificent scenery of mountains, rivers and plains. This phrase has decorated maps, car license plates, tourist information centers and souvenirs of all kinds!
Denver is the Capitol of Colorado
Colorado is the highest state and has more mountains reaching 14,000 feet than any other state. "Grand Mesa", the world's largest flat-top plateau is also found in Colorado. Her mountain scenery is some of the most beautiful and dramatic in the United States and Colorado is a center for vacationers taking advantage of the pleasant summer climate and the ample supplies of powdered snow in the winter.

Colorado Senators

Colorado House of Representatives

Colorado US Senators

Colorado US House of Representatives



State Flag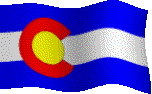 The flag consists of three alternate stripes of equal width and at right angles to the staff, the two outer stripes to be blue of the same color as in the blue field of the national flag and the middle stripe to be white, the proportion of the flag being a width of two-thirds of its length. At a distance from the staff end of the flag of one fifth of the total length of the flag there is a circular red C, of the same color as the red in the national flag of the United States. The diameter of the letter is two-thirds of the width of the flag. The inner line of the opening of the letter C is three-fourths of the width of its body or bar, and the outer line of the opening is double the length of the inner line thereof. Completely filling the open space inside the letter C is a golden disk, attached to the flag is a cord of gold and silver, intertwined, with tassels, one of gold and one of silver.



State Seal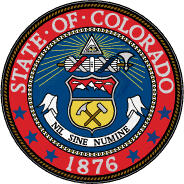 By statute, the seal of the State is two and one-half inches in diameter with the following devices inscribed thereon: At the top is the eye of God within a trangle, from which golden rays radiate on two sides. Below the eye is a scroll, the Roman fasces, a bundle of birch or elm rods with a battle axe bound together by red thongs and bearing on a band of red, white and blue, the word, "Union and Constitution." The Roman fasces is the insignia of a republican form of government. The bundle of rods bound together symbolizes strength which is lacking in the single rod. The axe symbolizes authority and leadership. Below the scroll is the heraldic shield bearing across the top on a red ground three snow-capped mountains with clouds above them. The lower half of the shield has two miner's tools, the pick and sledge hammer, crossed on a golden ground. Below the shield in a semicircle is the motto, "Nil Sine Numine", Latin words meaning "nothing without the Deity", and at the bottom the figures 1876, the year Colorado came into statehood.
The design for the Territorial Seal which served as a model for the State Seal or Great Seal of Colorado has been variously credited, but the individual primarily responsible was Lewis Ledyard Weld, the Territorial Secretary, appointed by President Lincoln in July of 1861. There is also evidence that Territorial Governor William Gilpin also was at least partially responsible for the design. Both Weld and Gilpin were knowledgable in the art and symbolism of heraldry. Elements of design from both the Weld and Gilpin family coat-of-arms are incorporated in the Territorial Seal.
State Moto
Nil Sine Numine
The Latin phrase "Nil Sine Numine", was adopted as part of the Territorial Seal. At recurring intervals, discussion has ensued concerning interpretation of this Latin phrase which commonly translated is "Nothing without Providence". Others say it is "Nothing without God". In the early mining days of the State, the unregenerate said it meant "nothing without a new mine". In a strict sense, one cannot possibly get "God" from "numine", God being a purely Anglo-Saxon word. The word "numine" means any divinity, god or goddess. The best evidence of intent of Colorado's official designers and framers of the resolution for adoption of the seal is contained in the committee report wherein clear distinction was made between "numine" and "Deo" and it is specifically states that the committee's interpretative translation was "Nothing without the Deity".

The Icons below will guide you to the other Colorado Pages