Colorado
Entered Union: August 1, 1876; 38th State

State Bird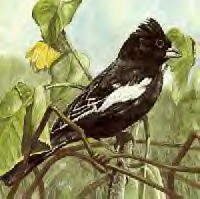 Lark Bunting
The Lark Bunting was adopted as the official state bird on April 29, 1931. The Lark Bunting is a migrant bird. Flocks arrive in April and inhabit the plains regions and areas up to 8,000 feet in elevation. They fly south again in September. The male bird is black with snowy white wing patches and edgings, tail coverts and outer tail feathers. In winter the male bird changes to a gray brown like the female bird, however the chin remains black and the black belly feathers retain white edgings. The female bird is gray brown above and white below with dusky streaks. The male bird is six to seven inches while the female is slightly smaller. The male bird performs a spectacular courtship flight, during which he warbles and trills a distinctive mating song.
State Song
"Where the Columbines Grow"
A.J. Fynn, 1915
Verse One
Where the snowy peaks gleam in the moonlight,
Above the dark forests of pine,
And the wild foaming waters dash onward,
Toward lands where the tropic stars shine;
Where the scream of the bold mountain eagle
Responds to the notes of the dove
Is the purple robed West, the land that is best,
The pioneer land that we love.
Chorus
Tis the land where the columbines grow,
Overlooking the plains far below,
While the cool summer breeze in the evergreen trees
Softly sings where the columbines grow.
Verse Two
The bison is gone from the upland,
The deer from the canyon has fled,
The home of the wolf is deserted,
The antelope moans for his dead,
The war whoop re-echoes no longer,
The Indian's only a name,
And the nymphs of the grove in their loneliness rove,
But the columbine blooms just the same.
Verse Three
Let the violet brighten the brookside,
In sunlight of earlier spring,
Let the fair clover bedeck the green meadow,
In days when the orioles sing,
Let the golden rod herald the autumn,
But, under the midsummer sky,
In its fair Western home, may the columbine bloom
Till our great mountain rivers run dry.
State Animal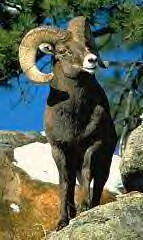 Rocky Mountain Bighorn Sheep
The Rocky Mountain Bighorn Sheep was adopted as the official state animal on May 1, 1961 by an act of the General Assembly. The Rocky Mountain Bighorn Sheep is found only in the Rockies, usually above timberline in rugged mountainous areas. The male sheep is three to three and a half feet tall at the shoulder and weighs up to three hundred pounds, while the female is slightly smaller. These large animals are known for their agility and perfect sense of balance. The bighorn sheep was named for its massive horns which curve backward from the forehead, down, then forward. On the ram, the horns can be as much as fifty inches in length. It is unlawful to pursue, take, hunt, wound, or kill the Rocky Mountain Bighorn Sheep except as provided by law.

The Icons below will guide you to the other Colorado Pages