Help Support The Cooking Inn






We want to go non-profit and we need your help!


In order to go non-profit we need monies to pay for an attorney and paperwork fees.

We are asking 500 of you to donate just $2 each. If you want you can donate more, or less, we just need your help.

We want to make this website beneficial for everyone who visits, not just some of you. If everyone donates just a little we can do just that.



If you would like to use a credit card, debit card or bank echeck to make a donation to help with operating expenses for The Cooking Inn, you can use PayPal, a secure online payment service. PayPal accepts contributions in currency other than U.S. dollars.

PayPal donations should be made to:
bsutton@thecookinginn.com


Monthly Inn Expenses.

As some of you know through corresponding with me, I have been ill going on 12 years and am now on oxygen. I am more slow than I was before getting things done, but I am getting things done.The illness and the use of oxygen will pass one day as I am told. Until that day, I am basically trapped at home. Thanks to all you well wishers, it's nice not to do this alone, as so many others do on a daily basis. Get to know those around you, help those that need help. The same kindness may be what you will need some day.

We have opened up a store through Amazon.com this is mainly for new, used and auction items. I get a commission from everything that is bought when you visit them through my site. This isn't a big commission, but it will help.
To visit this store, click on the Image below.

Maybe you are in need of a quality Gas Grill or other outdoor appliance.



I use the Amazon store a lot to buy used books.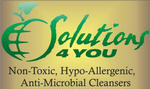 Solutions 4 You is a company that manufactures and sells Anti-Microbial Botanical Cleansers, Hypo-Allergenic and Non-Toxic Body, Face and Hand Creams, as well as Lotions, Oils and Soaps that are Safe for your immune system and vital organs.

Should you use this service to book a cooking vacation
(how cool is this!), we will get a commission off of that.

There are other ways to contribute to the cause of this site. I am in need of software, cookbooks, and reference books.





The Office

I am getting an ever increasing number of requests to help people with special diets. If you know of an organization that supplies the materials for what I have listed below please let me know.

I am looking for a couple of people to take over the Multiple Sclerosis, Alzheimer's, Parkinson's and Fibromyalgia sections. I prefer someone who has experience with these ailments either someone who has these ailments and wants to share there experiences or someone who cares for these individuals. You must have the heart to do this. This is volunteer work and I cannot compensate you with any money, I can only give you a copy of the HTML software that I use. You would have to get the materials and do the research. I have little on these subjects and they are the ones I get the most requests for help with. If you can help and are able to send me new recipes and information on a monthly basis, please email me or send me a letter.

I am in need of Diabetic books and books that a Dietician would use.

I am in need of Multiple Sclerosis books and information. I now have a copy of Dr. Swank's The MS Diet Book.

I am now in need of books that cover diets for people with Parkinson's Disease and Alzheimer's Disease.

I now need books for Fibromyalgia, High Blood Pressure and High Cholesterol. I need Recipe books and health information on these subjects.

I am also in need of the older cookbooks that deal with life on the prairie and in the plains

I also want some authentic American Indian recipes from the 1700's to the 1900's

Copies of favorite recipes are also needed. Original recipes are preferred.

If you would like to use a credit card, debit card or bank echeck to make a donation to help with operating expenses for The Cooking Inn, you can use PayPal, a secure online payment service. PayPal accepts contributions in currency other than U.S. dollars.

PayPal donations should be made to:
bsutton@thecookinginn.com


You can email me at jsutton@thecookinginn.com

Or you can mail things to

John Sutton

or

The Cooking Inn

PO BOX 3364
Pueblo, CO 81005
USA

Thank You for your time.
Regards,

John C. Sutton