Harsh Times



This selection of recipes are from around the world. These were staples used in harsh times. These helped keep people stay warm and to give them nutrients during the harshest winters and when food was scarce. If you have something that people used as a staple, send those to me along with a short story of how and why the staples came to be. John....

Injera

3/4 cup teff *, ground fine (this may be done either in a flour mill or in a blender after moistening in 3 1/2 cups water)
salt
sunflower or other vegetable oil

Mix ground teff with 3 1/2 cups water and let stand in a bowl covered with a dish towel, at room temperature, until it bubbles and has turned sour. This may take as long as 3 days. The fermenting mixture should be the consistency of pancake batter (which is exactly what it is).

Stir in salt, a little at a time, until you can barely detect the taste.

Lightly oil an 8- or 9-inch skillet (or a larger one if you like). Heat over medium heat. Then proceed as you would with a normal pancake or crepe. Pour in enough batter to cover the bottom of the skillet. About 1/4 cup will make a thin pancake covering the surface of an 8-inch skillet if you spread the batter around immediately by turning and rotating the skillet in the air. This is the classic French method for very thin crepes. Injera is not supposed to be paper thin so you should use a bit more batter than you would for crepes, but less than you would for a flapjack.

Cook briefly, until holes form in the injera and the edges lift from the pan. Remove and let cool.

Yields 10 to 12 injeras.

Traditionally injera cooks like a giant pancake on a covered ceramic griddle. The cook pours the batter in a spiral fashion, starting at the outside. Then the cook covers the griddle with a lid, sealing the edges with a damp rag. In a matter of minutes the injera is done.
Most families make enough to last three days at a time. A member of the family can consume about 25 pieces of injera in that period.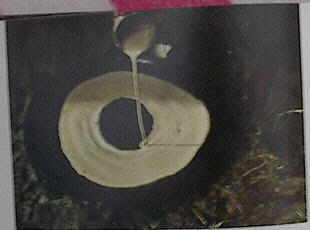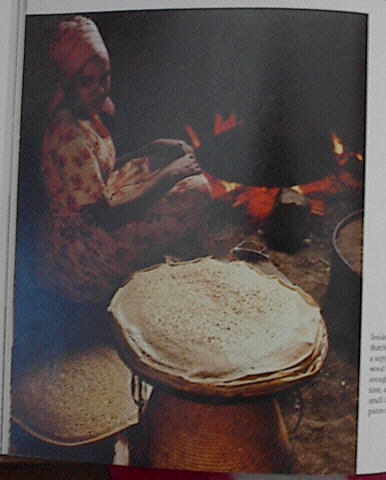 Teff is the staple grain of Ethiopia. The grain yields a seed much smaller than the size of a wheat grain, but is the basis of Ethiopian traditional cookery. Teff flour is the main ingredient of the pleasantly sour pancakelike bread known as injera, which literally underlies every Ethiopian meal.

To set an Ethiopian table, one lays down a circular injera on top of which the other food is arrayed, directly, without any plate. Other injeras are served on the side and torn into pieces to be used as grabbers for the food on the "tablecloth" injera. Eventually, after the meal is finished, you eat the tablecloth, a delicious repository of the juices from the food that has been resting on it.

Nutrition-minded Americans have turned to teff as a source of calcium, fiber, and protein. It is also an alternative grain for people allergic to the gluten in wheat. It has an appealing, sweet, molasses-like flavor, and it boils up into a gelatinous porridge.
Photos and some of the information courtesy of Food of the World African Cooking, Time Life Books, 1971 and
An article by Gayle Koszegi from Carnegie Mellon's School of Computer Science, 10 Sep 1993.

Hunza (Traveller's Food)

The Hunza live in a Himalayan valley between Afghanistan and China. They eat primarily fruits, vegetables, and dairy products. Fresh or dried apricots are eaten at nearly every meal. The Hunza make the following mixture into patties, wrap them in birch leaves, and call them Traveller's Food.

1 c dried apricots, chopped fine
1 c other dried fruit, chopped fine
1 c almonds, ground
1 c walnuts, chopped
Fruit juice

Mix nuts and fruits together. Form into bite-size balls. If mixture is too dry to hold together, add some fruit juice.


Johnny Cake

As early as 1630, this food sustained many colonists.

Some people believe that the name johhny cake comes from a Native American name. Others say its name stems from journey cake. This cake traveled well and lasted long periods of time because it did not contain butter, milk, or eggs. The batter can be fried in a pan over a fire.

Known by a host of regional names - ash cakes, hoe cakes, corn pone, mush bread, hush puppies, Shawnee cakes - the johnny cake is thought to take its original name from the r-dropping, New England slang version of the English term "journey cake," a small oat patty popular among the workaday folk.

Cornmeal was originally known as Indianmeal.

1/2 cup cornmeal
1/4 teaspoon salt
2/3 cup boiling water
Shortening for greasing the skillet

Mix the cornmeal and salt in a bowl. Pour the boiling water over the cornmeal and stir. Let the mixture stand for about five minutes. If the mixture is too thick to spread in the pan, add one to two tablespoons of water. Heat a lightly greased skillet or griddle. Pour the mixture into the skillet. You can cook the entire recipe at once or you can make small cakes.
Cook at medium heat for about 5 minutes.
In it's days, this would have been placed on hot stones above red coals on a fire.

Bak-Kimchi (White Kimchi)

In the Korean peninsula, people started to prepare Kim-jang, a spicily-fermented preserved vegetable, as a vitamin supply over the harsh winter. Kim-jang kimchi is a traditional Korean food made of fall harvest vegetables used expressly for this purpose.

5 heads of cabbage
1.5kg of rock salt
2 radishes
10 chestnuts
10 dates
5 heads of garlic
3 grains of ginger roots
1/2 bundle of large green onions
1/2 bundle of small green onions
1/2 bundle of leaf mustard
1 bundle of Japanese parsley
2 pears, 5 manna lichen mushrooms
5 shiitake mushrooms
20g of shredded red pepper
1/2 cup of pickled opossum shrimp
1/2 cup of table salt, a pinch of sugar

1. Cut the cabbage either in half or in four pieces, and soak these in the salt water for about 5 hours.
2. Shred the radish, chestnut, garlic, and slice the large green onion.
3. Cut the small green onion, Japanese parsley, leaf mustard into 4cm-long pieces.
4. Shred 1 pear and cut the other into 4 pieces.
5. Soak the manna lichen mushrooms and shiitake mushrooms, then shred them.
6. Cut the shredded red pepper into 3cm-pieces, and mince the garlic.
7. Place the cabbage and shredded radish in a bowl and color them with shredded red pepper.
8. Season #7 with salt and add the shredded chestnut, dates, manna lichen mushrooms and shiitake mushrooms.
9. Add the small green onion, garlic, and ginger roots to #8 and mix them.
10. Add sugar, salt, and minced pickled opossum shrimp to season.
11. Stuffed cabbages with all the above-mentioned ingredients.
12. Spread salt water over the stuffed cabbage.





The Icons below will guide you to the other Harsh Times Recipe Pages