Christmas Around the World
A Spanish Christmas


A traditional Christmas Eve meal among the Spanish Gipsies

Potaje De Nochebuena

Ingredientes para 6 personas
Potaje 500 gr. de habichuelas remojadas
500 gr. de garbanzos remojados
500 gr. de bacalao remojado y un poco desalado
2 pimientos
2 hojas de laurel
2 cabeza de ajos
1 vaso de aceite
2 cebollas medianas
1/2 lata de tomate natural
1 cucharita de pimentón
perejil
1 cucharadita de comino
2 huevos
pan rallado
azafrán (o 1 carterita de colorante)
sal

Preparación
Poner a remojo los garbanzos y el bacalao durante la noche. Poner en una olla los garbanzos y las habichuelas con agua suficiente para cocerlas. Limpiar los pimientos sacándoles los semillas e incorporarlos a la olla con el laurel y una cabeza de ajos sin pelar. Dejar a fuego lento las legumbres, hasta que estén totalmente cocidas.
Mientras, se pone a calentar el aceite en la sartén y se sofríen las cebollas cortadas a rajas y el tomate. Cuando esté dorada la cebolla, se añade el pimentón. Se mezcla todo bien y antes que se queme el pimentón se corta con un poco de agua el hervor y se echa a la olla con las legumbres.
Hacemos un aliño machacando tres dientes de ajo, el perejil, y el comino y se agrega a la olla.
Se pica el bacalao bien picado. En un recipiente se agrega perejil picado, dos dientes de ajo picados y los huevos batidos ligeramente. Vamos agregando el pan rallado hasta hacer una masa. A continuación hacemos buñuelos que vamos friendo en aceite caliente.
Los dejamos escurrir y los incorporamos a la olla cuando las legumbres ya estén totalmente cocidas. Agregar la sal que necesite y el azafrán.
Dejar cocer todo junto unos 15 minutos más y ya estará a punto para comer. Servir directamente de la olla.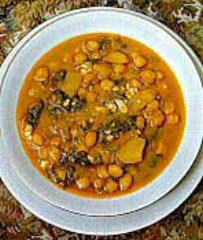 Mess Of Christmas Eve

Ingredients for 6 people
500 gr. of beans soaked
500 gr. of chickpeas soaked
500 gr. of cod soaked and a little desalinated
2 peppers
2 leaves of laurel
2 garlic bulb 1 glass of oil 2 medium onions
1/2 tin plating of natural tomato ( If you have a tin of tomato (1/2 kg. for example, you must use a half of the contents of the tin)
1 parsley paprika teaspoon
1 teaspoon of farthing
2 saffron grated bread eggs
salt

Preparation
Put to soak the chickpeas and the cod during the night.
Put in a pot the chickpeas and the beans with sufficient water to cook them.
Clean the peppers removing them the seeds and incorporate them to the pot with the laurel and a garlic bulb without peel it.
Leave with slow fire the vegetables, until they be completely cooked.
While, begins to heat the oil in the frying pan and fry the onions cut in slices and the tomato.
When the onion is golden, add the paprika. Mix all well and before that burn the paprika cut with a little water the boiling and throw it to the pot with the vegetables.
Do a dressing pounding three teeth of garlic, the parsley, and the farthing and add to the pot.
Magpie the cod well stung. In a containeradd the parsley stung, two cloves of garlic stung and the eggs batters slightly.
Add the bread grated until doing a mass. Subsequently do buns that go frying in hot oil.
Leave them to drain and incorporate them to the pot when the vegetables already be completely cooked.
Add the salt that need and the saffron.
Leaving to cook all at once some 15 minutes more and already will be ready to eat.
Serving directly from the pot.