Utensil Repair

What should you do if your utensils break or if the glue comes off? If you are like us, you have your favorite utensils or old utensils that can't be replaced and need repaired.

Now what I have done is found a good-quality water-proof glue. I use this along with things found in any household such as rubber bands, toothpicks, pencils, etc.

It is always important to make sure each of the ends you are putting together are clean before applying the glue.

We will start with my new Oneida Wire Whisk. We bought this wire whisk in August 2006 and unfortunately it feel apart in October 2006.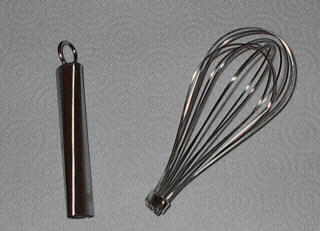 I cleaned both parts and glued the handle back on. Then I used a rubber band and toothpick to hold my whisk together and I allowed it to sit overnight. I have fixed my new wire whisk.


My next item is from our Corelle Callaway collection and this is no longer available so when the handle broke, we were thrilled to get a good permanent fix on it. This is a porcelain handle going onto metal.






Notice that I used only rubber bands this time.

Remember to follow these steps:


Thoroughly clean each part of your utensil.
Apply glue to both pieces of your utensil.
Secure the pieces together tightly and wipe off the excess glue.
Let the glue cure at least 8 hours or overnight before moving the utensil.

You should never rush repairing things.


This glue I use works on wood, metal, plastic and porclean so far, these are the materials I have used this glue on.

If you would like to know the name of the glue, please email us at info@thecookinginn.com