Colorado
Entered Union: August 1, 1876; 38th State

State Flower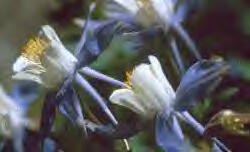 Columbine
The white and lavender Columbine was adopted as the official state flower on April 4, 1899 by an act of the General Assembly. In 1925, the General Assembly made it the duty of all citizens to protect this rare species from needless destruction or waste. To further protect this fragile flower, the law prohibits digging or uprooting the flower on public lands and limits the gathering of buds, blossoms and stems to 25 in one day. It is unlawful to pick the columbine on private land without consent of the land owner.
State Tree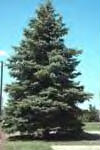 Colorado Blue Spruce
The Colorado Blue Spruce, was adopted as the official state tree on March 7, 1939, by a resolution of the General Assembly. The Colorado Blue Spruce was first discovered on Pikes Peak in 1862 and named by botanist C.C. Parry. This tree is known for its stately, majestic, symmetrical form and its beautiful silver-blue color. In Colorado, it grows in small, scattered groves or singly among ponderosa pine, Douglas fir, alpine fir and Englemann spruce. In the northern parts of its range it grows at the 6,000 to 9,000 feet elevation while in the southern parts of its range at 8,000 to 11,000 feet. Its color ranges from green to blue to silver, and is sometimes called the silver spruce. Colorado school children voted on Arbor Day in 1892 to name the blue spruce as the state tree, however it was not until 1939 that the Colorado Blue Spruce was officially designated.

The Icons below will guide you to the other Colorado Pages